Navigation
Overview • Categories • Articles • Discussion • Help
• Series • Races • Characters • Mecha and Vehicles
This is not a role playing site, it is a
resource center. We are interested in the contribution of official information, not player profiles which are completely fictional.
If you are a first time user and need assistance, contact one or more of the following administrators for assistance:
Featured Article
Latest News
Mecha Illustrator Hidetaka Tenjin Guest at London Comic Con
Top mecha illustrator, sci-fi artist and mechanical designer Hidetaka Tenjin is to be the Anime Guest of Honour, invited by Viewster, at MCM London Comic Con next week, meeting fans on Friday and Saturday of the Excel London show.
Known for his realistic art style, Hidetaka Tenjin had been bringing the iconic mecha of the long-running Macross franchise to life for over a decade now, working as mechanical artist on titles such as Macross Zero, Macross Frontier, Macross Frontier: The False Diva and Macross Frontier: The Wings of Goodbye. Other anime credits include Hellsing Ultimate, Gundam Evolve, Genesis of Aquarion and its sequel series Aquarion Evol.
As an artist and illustrator, Hidetaka Tenjin also works on the Master Grade Gundam model series box art for Bandai, as well as that company's Star Wars range of models. In addition, the Kobe-born Tenjin has published a series of art books showcasing his mecha illustrations for Macross and has appeared as a voice actor in a number of anime series.
Source: Anime News Network, Viewster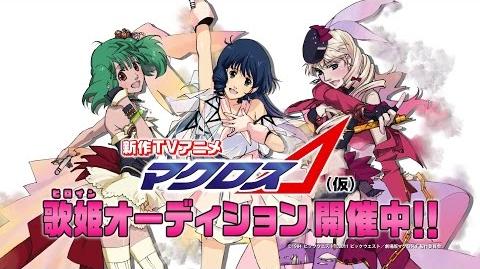 Do you have what it takes to be a singer?
It's Over 8000!
It has been confirmed that about 8,000 people have applied for the audition for the main singer/voice actress for the upcoming new Macross TV series, tentatively titled Macross Δ. It is the highest number in the history of the franchise, even 3,000 more that that for Macross Frontier in 2007 and 5,000 more than the recent "Miss Macross 30 Contest" in 2012. In the 2007 audition, Megumi Nakajima was chosen as the voice and singer for Ranka Lee from about 5,000 entries. The first auditions was held at Joysound's karaoke boxes across Japan for two months from December 1, 2014, to January 30, 2015. The organiser is now in a process to choose the finalists with videos and profile documents. The final selection round will be held in Tokyo in late April. The finalists will go through interviews with the judges, and will demonstrate their singing and voice performing skills. Then the new heroine will be announced on the portal site for the Maross franchise with more information about the new TV series.
Source: Crunchyroll
Super Dimension Fortress Macross Ranked Japan's Favorite Idol Anime
In a surprising turn of events neither current Idol anime Love Live! School Idol Project, Shoji Kawamori's/Satelight's AKB0048 nor THE iDOLM@STER were ranked Japan's number one idol anime but instead, the Super Dimension Fortress Macross. Not the recent production, Macross Frontier but the original television series series that was the first ever anime to feature an idol singer, Lynn Minmay. The runner up is Studio Pierrot's magical girl series Creamy Mami, the Magic Angel, which began in June, 1983, halfway through Super Dimension Fortress Macross's run, it too was a pioneer of idol anime.
The rankings are as follows:
Source: NicoNico
Poll
Favorite Television Series
Improvement Drive