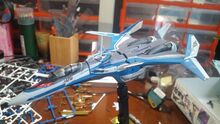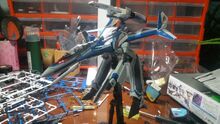 The VF-31J Siegfried (VF-31J ジークフリート, Bui Effu Wan Jei Jīkufurīto?) is one of the main Variable Fighters of the Macross Δ television series. It is piloted by Hayate Immelman of the Delta Squadron.
Technology & Combat Characteristics
It's a bleeding edge fighter stock equipped with a inertial control system. It's mentioned that Hayate hates the support Al, so the Delta Squad team along with Makina & Reina tuned Siegfried for him. This way, he's not required to wear a helmet. For emergency purposes, it's equipped to use the X- gear system.
Gallery
See Also
Toys
Ad blocker interference detected!
Wikia is a free-to-use site that makes money from advertising. We have a modified experience for viewers using ad blockers

Wikia is not accessible if you've made further modifications. Remove the custom ad blocker rule(s) and the page will load as expected.